7 Healthcare Technology Trends for 2021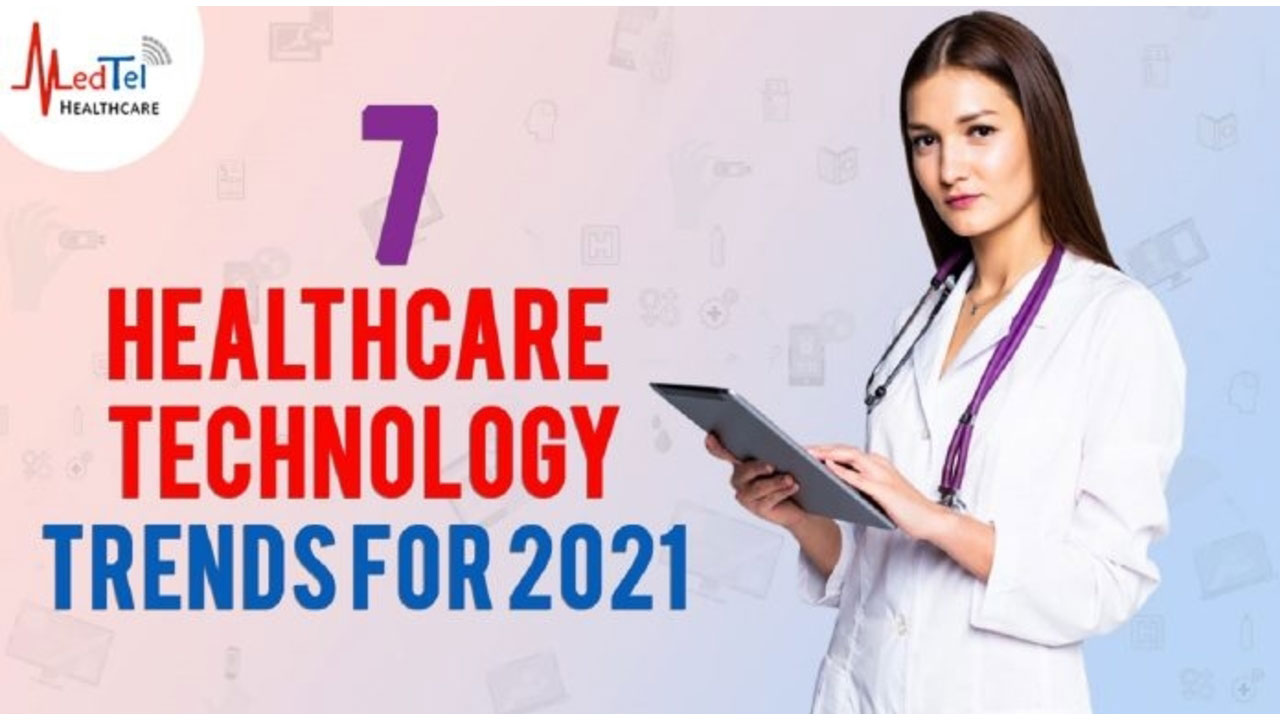 The transformation in digital healthcare technology is perhaps the only positive outcome of the COVID-19 pandemic in this sector. It has unlocked new opportunities which could have taken ages to come into play, making way for improved eHealth services and remote patient monitoring. Here is a list of trends in healthcare technology that is expected to spike in the year 2021 and ahead.
1. AI and Healthcare Technology
Artificial Intelligence will soon rule the world, including the healthcare industry. According to a recent survey, by 2025, AI services across the healthcare market will exceed by $34 billion. In the future, AI will play a crucial role in vaccine development, medical and thermal imaging, with-mask facial recognition, and much more.
AI and machine learning will revolutionize the healthcare industry by precision medications, reduced drug development time, and improved overall efficiency. Doctors can customize treatment as per the precise diagnosis provided by AI technology, offering a greater survival chance to their patients.
2. Wearable Devices and Internet of Things
Digital trackers, self-monitoring devices, and mobile phone applications together with IoT, will significantly improve healthcare experiences, especially remote health monitoring (RPM). Apple Watch had already proven this when it dialed 911 after detecting the fall of a rider wearing the watch and getting him immediate medical attention. With such wearables and apps connected, patients' records of daily movements, blood pressures, heart rate, and more are continually collected.
Besides, these
IoT-connected devices
and apps can help patients self-monitor with precision. By 2021, the global wearables market will increase by $12 billion and will continue growing in the future.
Telemedicine saw a boom during the COVID-19 pandemic with doctors monitoring their patients virtually. Video calls, WhatsApp texts, and other forms of remote patient monitoring have taken over long waiting lines outside the doctor's office. Telemedicine is transforming the medical landscape while reducing costs significantly. It has dissolved borders and brought patients and doctors closer to each other, benefitting especially those from the rural areas.
In the future, telemedicine will continue to improve doctor-patient relationships and provide better healthcare facilities. Telemedicine apps have already come into play wherein they integrate eHealth records of the patients, making it convenient for the doctors to diagnose.
Augmented Reality (AR) and Virtual Reality (VR) will substantially impact the healthcare industry, not just to treat patients but also to train medical professionals. These technologies are already proving beneficial for stroke victims to aid them in regaining motor control.
Such simulations have the potential to offer therapy that physical therapy may lack in providing and can help doctors customise treatments for such victims. Virtual reality is also being used to treat anxiety, stress, post-traumatic stress disorder, and chronic pain, among other things.
If the pandemic brought the healthcare industry anything, it was the need for centralised medical health records. Nation-wide data of corona cases were being recorded to identify the reason for the spread and to curtail it. When cross-border medical data is centralised and digitised, medical professionals can access it and aid in better care delivery.
Remote patient monitoring services can considerably improve their treatments with such data. Besides, extensive data collection is excellent for research purposes, especially in drug development and advanced healthcare based on a specific diagnosis.
6. Digital Hubs and Cloud Systems
With extensive data collection comes large storage spaces and the need to build hubs and cloud systems dedicated to healthcare sectors. Google, Microsoft, Amazon, etc., are already providing cloud-based systems specifically for healthcare. All data collected across states can be registered under one roof for better management and improved treatments.
These portals can give rise to innovation and help the growth of the healthcare industry. Countries like Sweden and Germany have already taken the plunge into digital medical hubs, providing exceptional outcomes to their citizens.
7. Smart and Predictive Healthcare Analytics
The digital transformation of the healthcare industry accelerated in 2020, promoting smart precision treatments and predictive healthcare analytics. With AI and machine learning, hospitals are learning about patient history and making educative predictive analytics. The advancement in these technologies and their application in the healthcare industry will take the world closer to smart treatments as a preventive measure.
Healthcare's digital transformation has picked up momentum and now it is time for change. These trends will only enhance the way patients receive healthcare and make a value-added impact on their lives. Moreover, doctors and medical professionals can gain insightful knowledge with technological innovations and better serve their patients.