What is Digital Health?
With the burgeoning need and growth of technology comes the intersection of this with health and diagnostic practices. As the name suggests, digital health is using information and technologies to mitigate health problems and bolster health. In this era of ever-increasing demand for technology, healthcare professionals are in no way out of the league.
Some of the commonly used examples include
Mobile health (mHealth)
Health information technology (e-prescription, EHR etc)
Wearable devices
Robotic surgery
India's Roadmap to Digital Health
Rise of Digital Healthcare Market (Let us see some numbers!)
Covid has booned the adoption of digital healthcare by providers. The 2021 Accenture Health and Life Sciences Experience Survey reveal that digital adoption in the US has spiked overnight as providers had to quickly pivot to virtual care. The rise of on-demand healthcare by consumers also fueled this revolution. In early 2020, only 7% of people had a virtual consultation with a provider compared with a robust 32% in 2021.
At a projected CAGR of 16.5% from 2021 to 2027, the global digital health market is expected to grow from USD 220,160.45 million in 2021 to USD 551,090.78 million – SkyQuest Technology.
The Indian healthcare market being one of the biggest industries in India has immense growth potential. This industry is fueled by today's increasing demand for digital healthcare solutions. Growing investments from public and private sectors in the digital healthcare space and the emergence of advanced technologies such as telehealth and telemedicine solutions are some of the factors that drive the market.
The eHealth market in India is expected to reach $10.6 Bn by 2025. Among the sub-sectors under eHealth, telemedicine has the highest potential and may reach $5.4 Bn by 2025.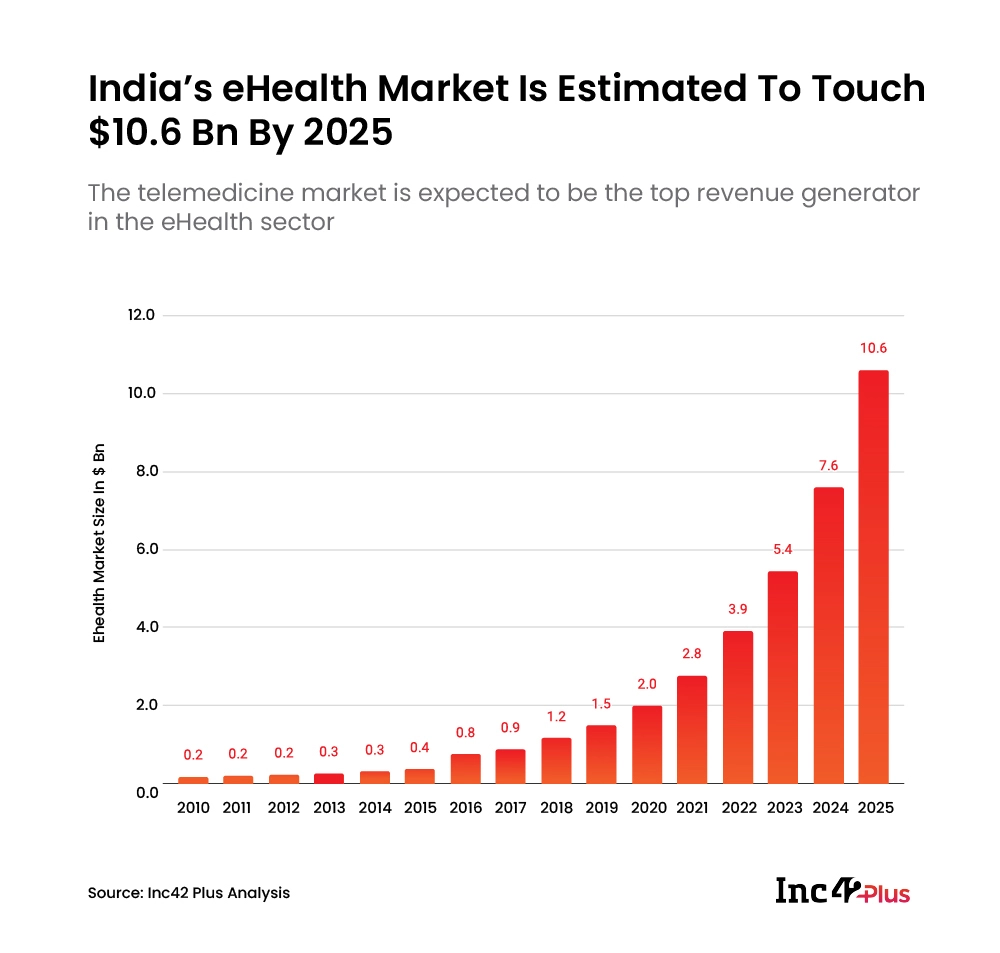 The Preventive Healthcare market has also proven to have myriad growth potential. The preventive healthcare market is expected to reach $197 Bn by 2025, growing with a CAGR of 22% as compared to 15% for the curative healthcare market.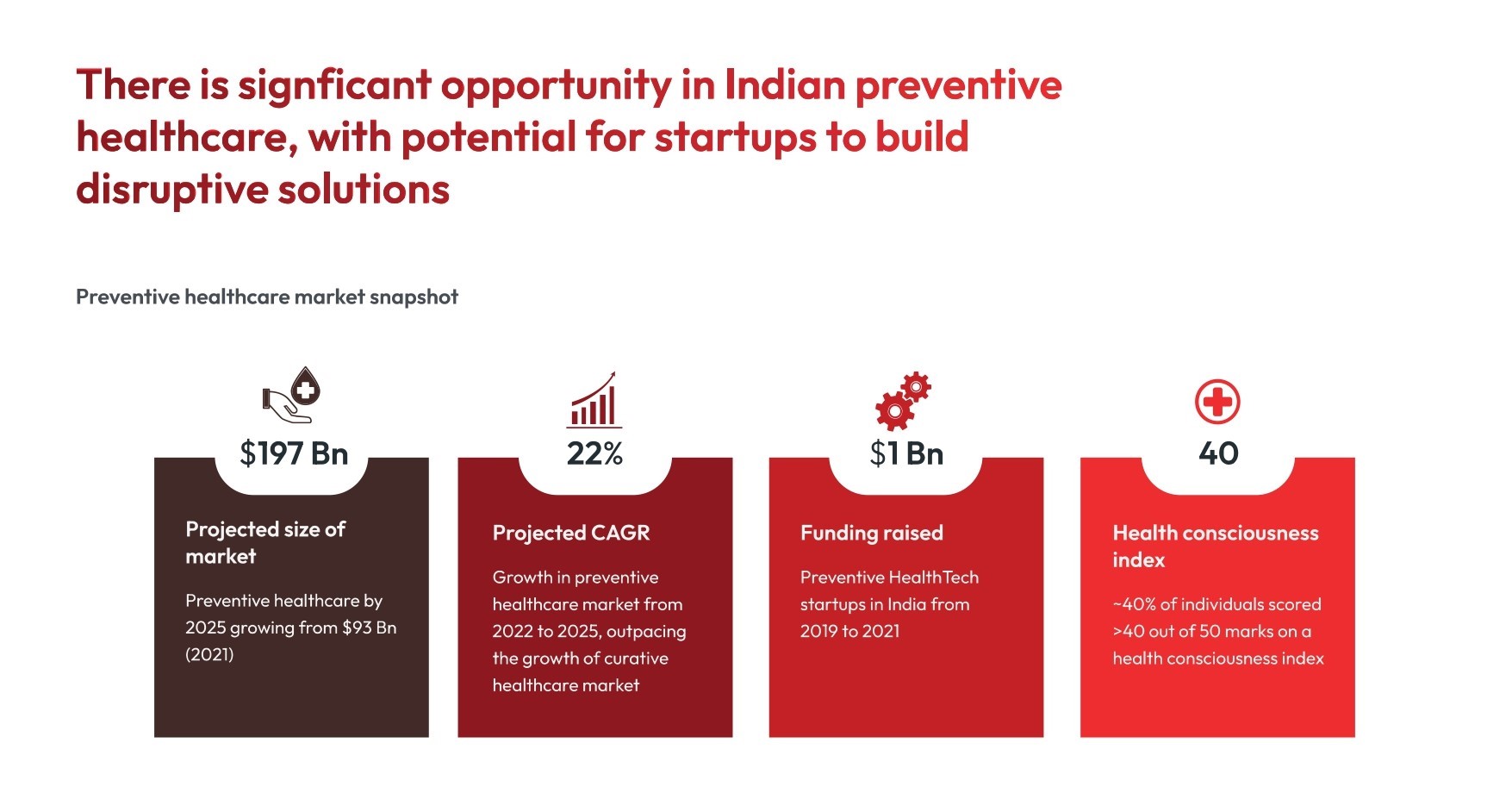 Source: RedCore analysis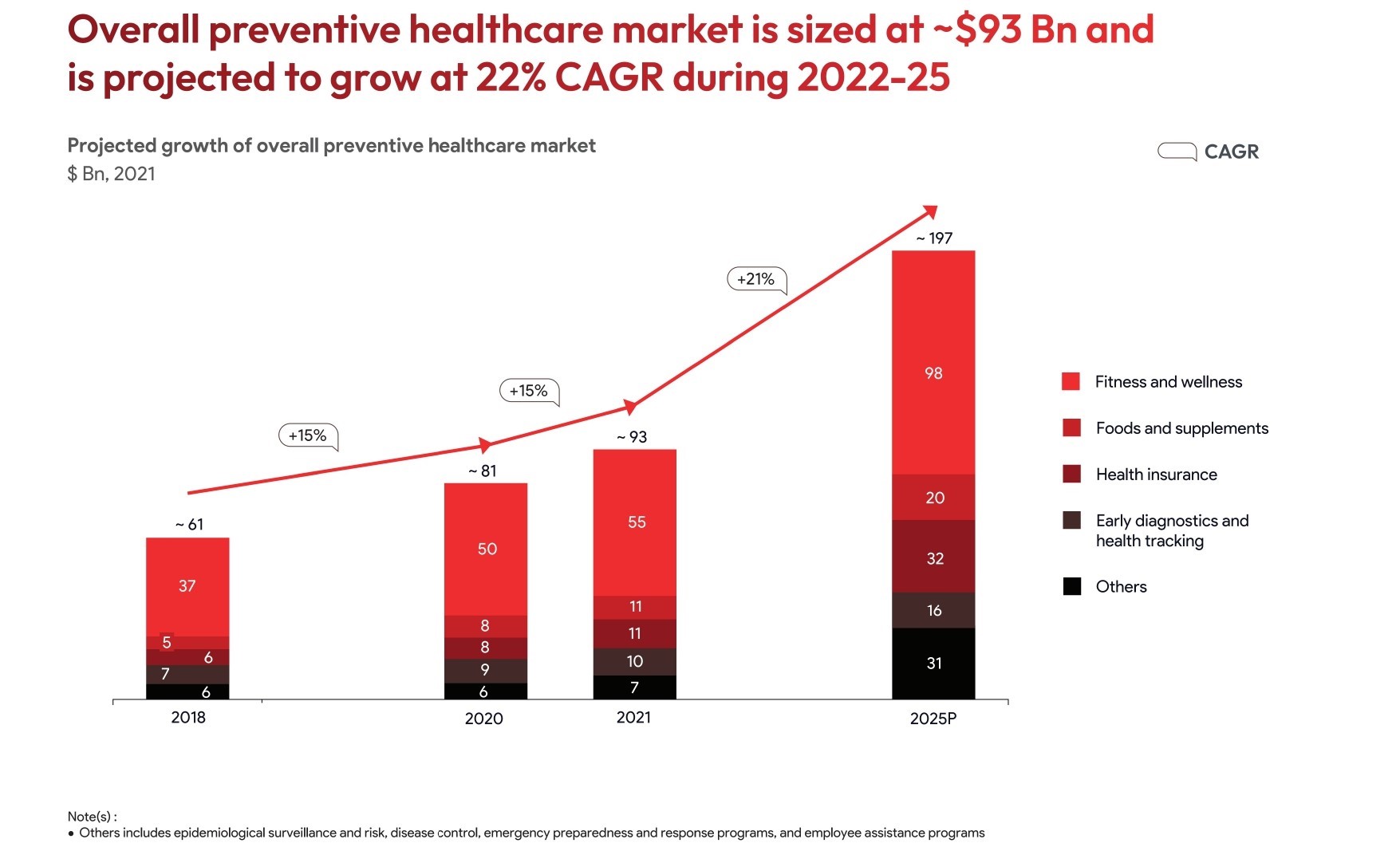 Source: RedCore analysis
At this juncture, we are witnessing many preventive healthcare startups getting investors' attention and the funding they deserve. These health-tech startups have received approximately $1 Bn funding over the last three years.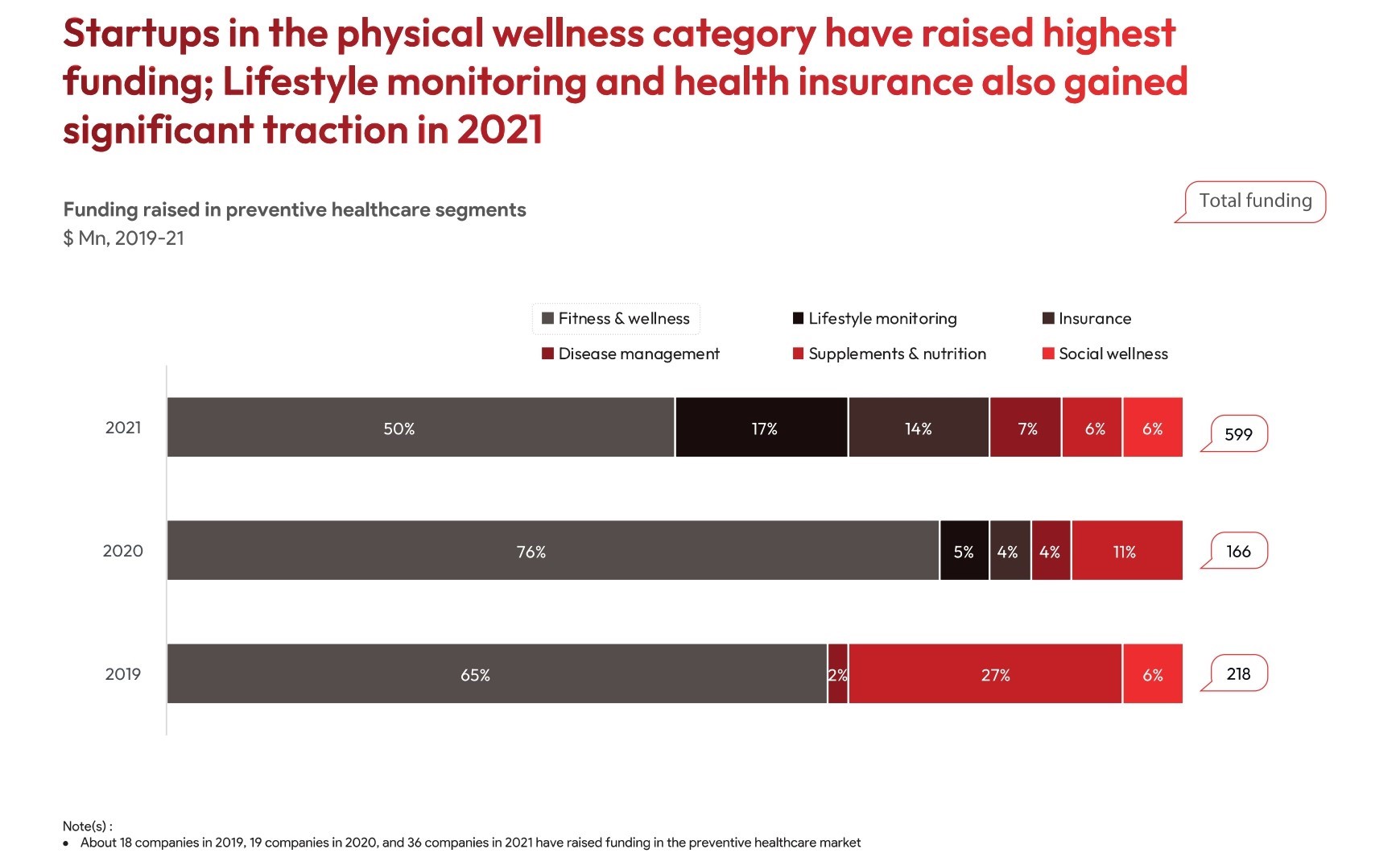 Sources: Crunchbase, RedCore analysis
How the Government is contributing to Digital Health in India ?
This decade has witnessed the biggest revolution in digital health. From e-hospitals to telemedicine, the government has profoundly made its efforts to deep root eHealth in India.
The Ministry of Electronics and Information Technology, NIC has developed the e-Hospital, e-Blood Bank and Online Registration System (ORS) applications as part of the Digital India initiative. ORS portal was inaugurated by the Hon'ble Prime Minister on 1st July 2015. E-hospital is a website that provides online registration services. In this site, users can access online services like registration and appointment scheduling, fee payment, seeing diagnostic reports, and checking the availability of blood in government hospitals. As of now , 750+ e-hospitals have been established with 50,000+ onboarded users.
Telemedicine also seemed to be a sector of great support. Initiatives by the Ministry of Health and Family Welfare, Government of India (MoHFW) such as National Telemedicine Network (NTN), Tele-Radiology (NIC-Delhi) and SATCOM-based Tele-Medicine Nodes at Pilgrim places has paved the way for telemedicine in India.
In addition to supporting telemedicine, MoHFW has taken various initiatives to aid the establishment of other pillars of eHealth in India. Some of the notable initiatives were: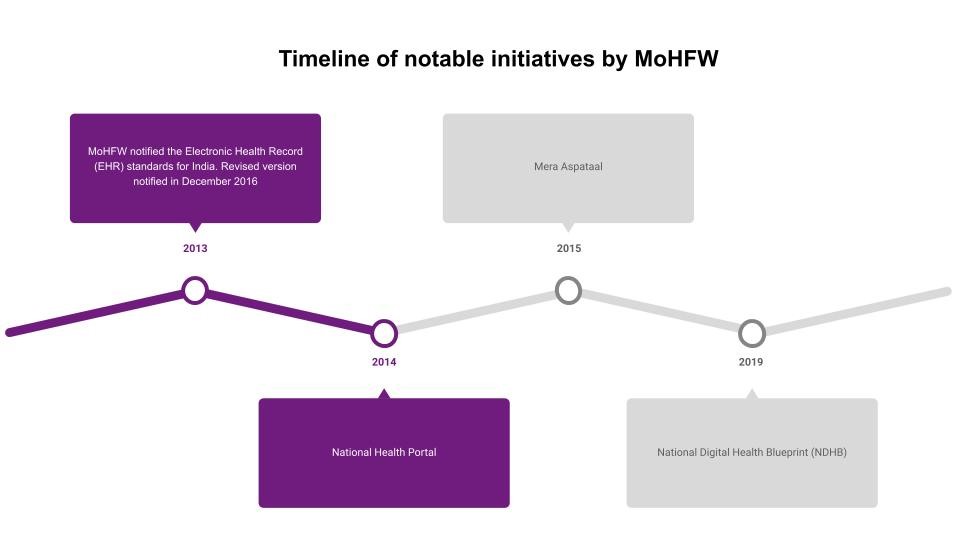 One of the major steps towards strengthening digital health schemes and policies in India was taken when PM Modi launched "Ayushman Bharat Digital Mission (ABDM)" on 27th September 2021. It intends to create the framework required to enable the nation's integrated digital health infrastructure. It will bridge the existing gap amongst different stakeholders of the healthcare ecosystem through digital highways. Individuals can set up an Ayushman Bharat Health Account (ABHA) under the Ayushman Bharat Digital Mission to manage their medical records. It is a 14 digit number which is used to uniquely identify individuals, authenticating them, and threading their health records. The ABDM ecosystem is explained in the picture below: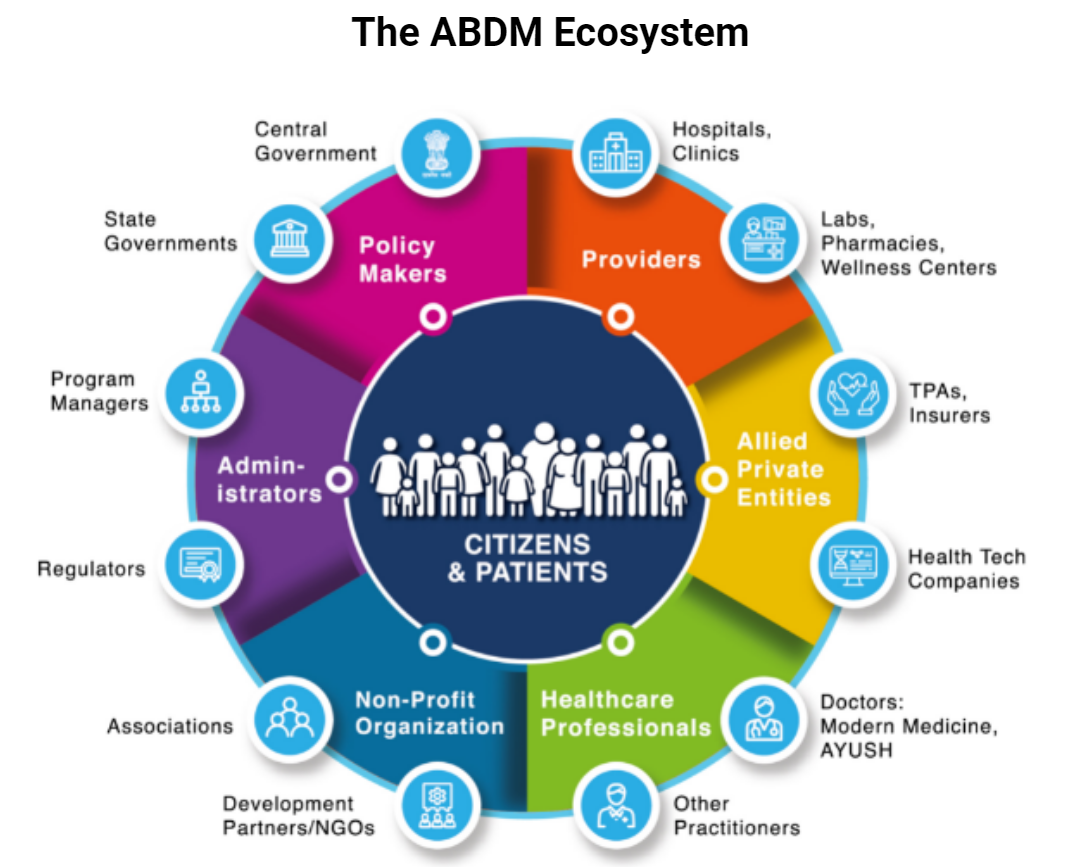 Source: https://abdm.gov.in/abdm
Before the ABDM, "Ayushman Bharat Yojana (ABY)" was launched on 23rd September 2018. It is the largest health insurance scheme in the world. It aims to provide free access to health insurance coverage for low-income earners in the country by issuing eCards to the beneficiaries which they can avail at any empanelled hospital.
Along with PMJAY, PM Modi has shown generous determination towards allocating a higher budget for the health sector as well as the digital health sector. Much before the arrival of Covid-19, in the Modi government's first term, the healthcare sector allocation was increased by an average of over 20 per cent with every budget. The first full budget of the second Modi government gave a 23 per cent higher allocation for health than the 2018-19 budget – marking the continuation of the trend of increased allocations. The allocation for National Digital Health Mission – NHM has been increased from Rs 30 crore to Rs 200 crore. For the National Health Mission, the budget allocation increased from Rs 36576 crore in 2021-22 to Rs 37,000 crore in 2022-23.
Preventive healthcare has received vast attention from the government. Government has spent nearly $13 Bn on preventive healthcare.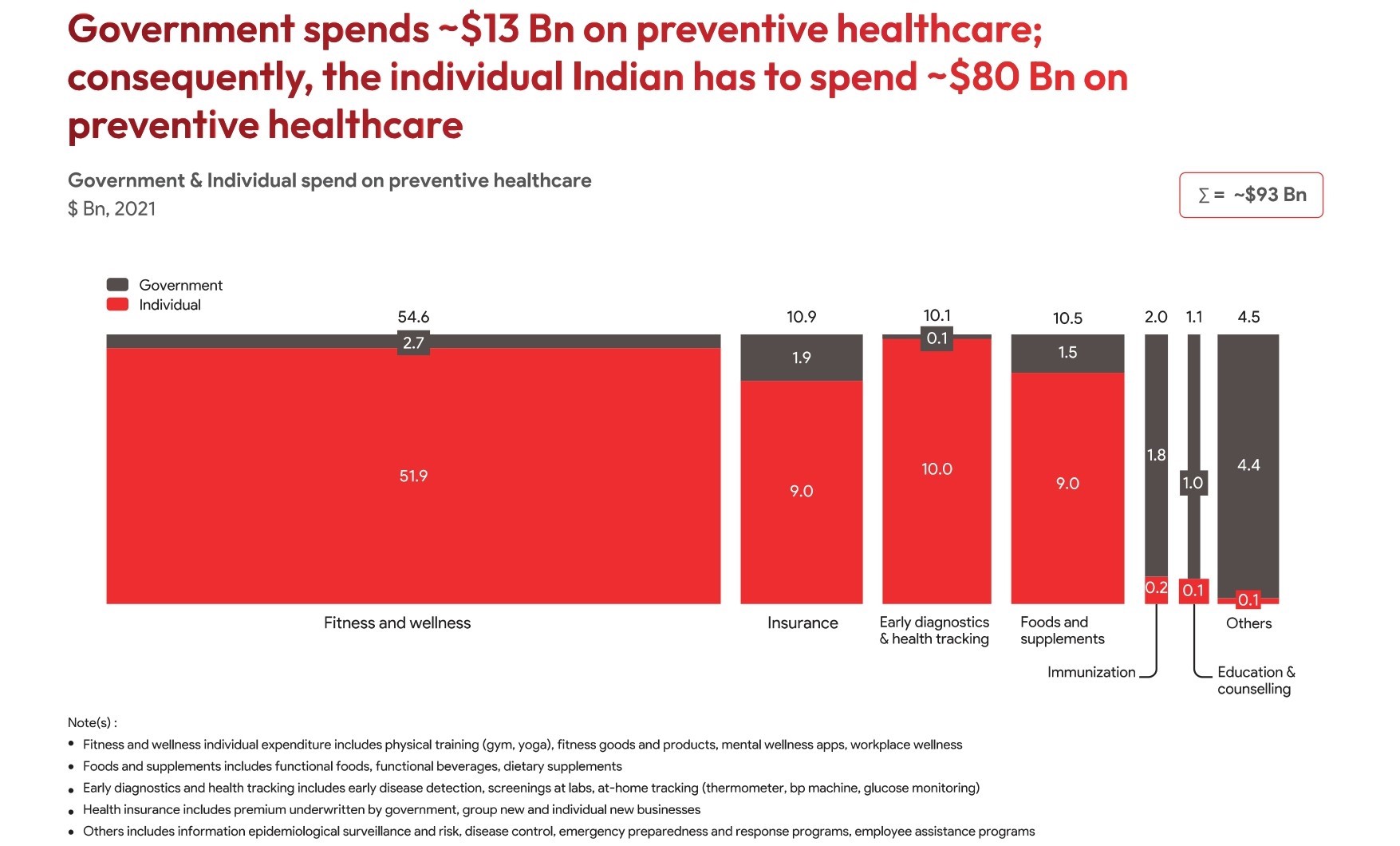 Sources: RedCore analysis, National Health Accounts
On the 75th Independence Day, PM Modi made consolidated statements about his vision towards digital health empowerment. "Digital movement with the production of semiconductors, 5G, optical fiber, has brought in a significant change in sectors like education, health, and overall common man's lives," he said.
Moreover, official sources confirm about the launch of 3 new health schemes in India
Heal in India
Heal by India
PM Samagra Swasthya yojana
These schemes aim to uphold digital health and provide better platform for intersection of technology and health.
Government officials have constantly been emphasizing and promoting the development of digital health in India over past few years
"Teleconsultation is the future of our health systems and we should work towards promoting it on a large scale as it provides a perfect platform to provide health services to the last mile." said Union Health Minister Mansukh Mandaviya at the 14th Conference of the Central Council of Health and Family Welfare (CCHFW), at Kevadia, Gujarat on May 5-7.
"Digital health is a great equalizer and enabler to support Universal Health Coverage and Sustainable Development Goals and can help ensure accessibility and affordability of health service delivery," said Dr. Mansukh Mandaviya, Union Minister of Health and Family Welfare and Chemicals and Fertilizers at the World Economic Forum Annual Meeting in Davos at Congress Center.
MedTel's approach towards Digital Health
With our vision of integrating technology, artificial intelligence and deep learning algorithms to healthcare approaches, to remove all the friction from healthcare delivery and refine our understanding of healthcare data to equitably push preventive over curative healthcare, we strive to make our contributions evident. To consolidate our steps further and provide the best digital solution, we have built a connected care ecosystem, using IoT enabled devices and sensors, which is especially needed in chronic disease management.
The pandemic's urgency of pushing healthcare limits was indeed supported by digital health. Digital health provided the solution to deal with the surge in emergency care while ensuring on-going and routine care for patients, and provided new possibilities for hospitals, clinics and care delivery organizations to connect with patients. In this hassle, MedTel proved itself and became the best choice for the providers like top Insurance providers, leading hospitals, pharma companies and for government projects in Odisha and Maharashtra.
We help care delivery organizations like health insurance companies, governments, home care providers, telemedicine providers, doctors etc. have plug and play remote care and hospital at home solutions bundled with population health management, connected internet of things (IoT) devices and digital therapeutics.