Enabling Efficient Healthcare with IoT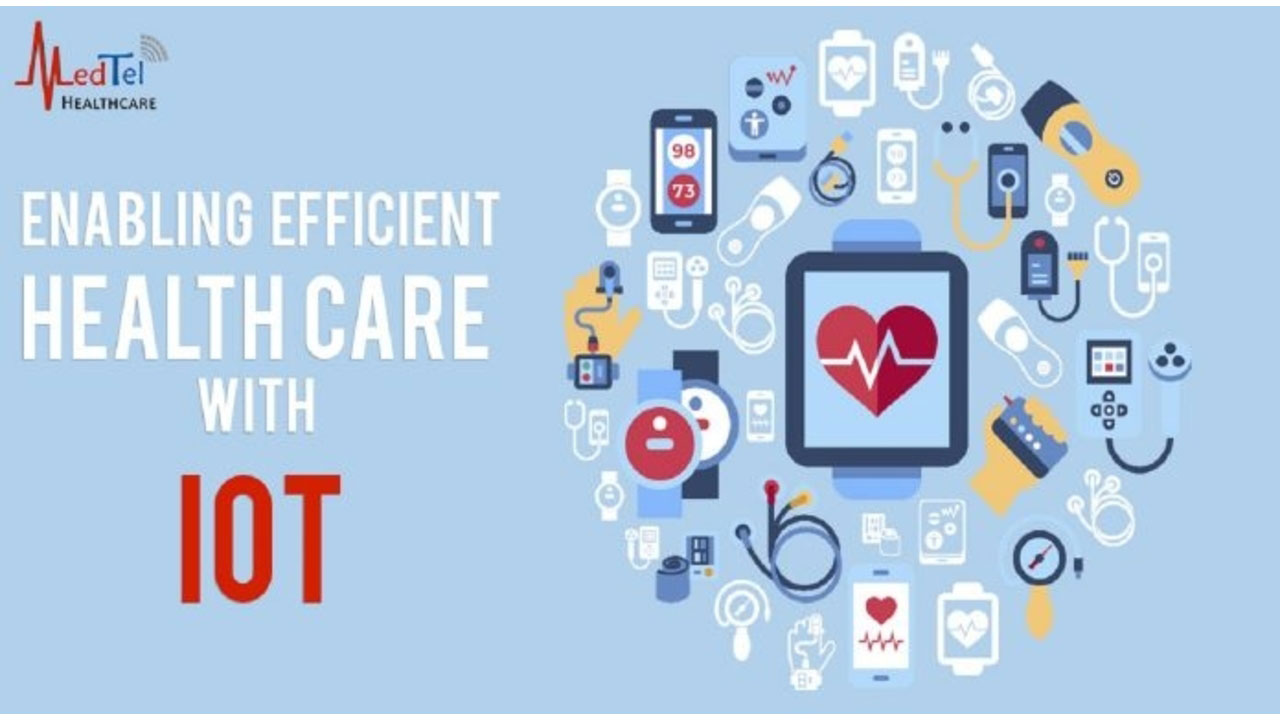 We are thick in the age of the internet. Devices as tiny as the size of a coin can be internet-enabled. In fact, so common are internet-enabled devices that by the year 2030, there will be an estimated 50 billion connected devices around the world. This network of internet-compatible devices is known as the Internet of Things (IoT) and comprises everything from consumer electronics to automobiles and even traffic lights. A growing number of devices are aimed at a certain sector with the capacity to truly revolutionize the world: healthcare. Thanks to this connected ecosystem, also known as Internet of Medical Things (IoMT), doctors are able to track patient metrics and administer care, all in real-time.
According to Fortune Business Insights, the IoMT market is estimated to hit USD 142.45 billion by 2026. This growth is driven by an increase of chronic diseases and better healthcare infrastructure worldwide.
The IoMT and Connected Care Ecosystem
Internet-enabled healthcare devices allow doctors to conduct remote patient monitoring (RPM). These devices comprise wearable technology and other tracking equipment that read a patient's vital signs in real-time and relay them to healthcare providers who then make diagnoses and prescribe treatment. This IoT and connected care ecosystem comprises several players: the RPM vendor that offers healthcare services and manages the healthcare devices and the RPM platform; the network provider that provides the connectivity required for the ecosystem to function; the hardware provider that delivers equipment to the patient's home; and the care provider – doctors and primary care physicians – who monitors and treats patients. At the centre of this intricate web of healthcare services is IoT, without which data generation and analysis would not be possible.
IoMT-based platforms can empower patients to become self-aware of their health. Oftentimes, patients can even minimize the intervention of healthcare professionals. These platforms also empower physicians by simplifying the healthcare process and supporting clinical decisions.
Factors Driving IoMT in Healthcare
There are several factors that have been steadily influencing IoMT in healthcare. Chief among them are:
Increasing awareness of the benefits of using smart healthcare products.
Improved efficiency of smart healthcare devices.
Rise in R&D of advanced devices.
Increasing disposable income of people.
Types of RPM Healthcare Devices
There are numerous types of RPM healthcare devices and sensors that transmit data to healthcare providers, most often through a dedicated mobile app. These include:
electroencephalographs (EEGs)
electronic thermometers
electrocardiographs (ECGs)
electronic stethoscopes
spirometers
cardiac monitors
apnea monitors
audiometers
oximeters
blood pressure monitors
breathing frequency monitors.
Irrespective of what type of device/sensor is used, it must comply with medical device and medical software safety standards, must comply with data privacy and data protection laws, and be able to be integrated with a healthcare provider's system. This ensures that IoT devices can enable proper communication between patients and healthcare providers without comprising data security.
Benefits of IoT in Healthcare
IoT presents numerous advantages to the healthcare sector, thanks to its immense potential and multitude of applications. Here are a few:
IoT offers healthcare providers greater control over drug management. They can ensure accurate dosage, find drugs quickly, track supplies, and make certain that patients are adhering to treatment plans. Doctors can also track compliance with prescriptions.
Data generated with IoT devices are more accurate than patient testimonials and manual test analyses. This lets doctors make more informed decisions, helps reduce medication errors, ensures smoother healthcare delivery, and most importantly, saves thousands of lives.
Better Patient Engagement and Experience
Patient engagement is directly tied to improved clinical outcomes. By getting patients to actively participate in managing their own health by gaining knowledge of their conditions, symptoms, and treatments, doctors can improve compliance and outcomes. IoT facilities this by involving patients in tracking their vitals and connecting with their healthcare providers whenever they have to. The ease that comes with communicating with doctors remotely instead of having to visit clinics and wait in a queue to get tested or diagnosed also improves patient experience.
The last few decades have seen incredible medical breakthroughs but the rising cost of treatments means that they're out of the reach of many patients. Enter IoT and its capacity to offset costs. The adoption of wearable devices, biosensors, and connected care, reduces the need for specialists and hospital room expenses, while decreasing staffing costs, and streamlining claims processing. Using remote diagnostics technology, medical equipment manufacturers can also monitor and manage hospital equipment, which is otherwise expensive to maintain.
The number of IoMT devices is projected to rise considerably in the near future. The heterogeneity of IoMT components will present challenges with interoperability and privacy. Others include contending with possible malware, a lack of solid encryption on healthcare systems, and accidental failures, which can lead to serious consequences. IoMT healthcare platforms need to be flexible in order to counter this. There's a need for IoMT solutions to be integrated in an interoperable environment. Efficient tools for storage, processing, and dissemination of IoMT data are also necessary.
Every technology has risks but providers can take steps to mitigate them by:
Taking a DevSecOps and security by design approach to IoMT systems.
Using embedded software protection tools.
Deploy only patched and monitored devices.
Implement end-to-end security.
Future Predictions of IoT in Healthcare
IoT in healthcare is still in its nascent stages but it's quickly being embraced by healthcare centres worldwide. COVID-19 has certainly revealed its immense potential. In the wake of the pandemic, doctors had to quickly switch to
telehealth
to reduce the risk of exposure to the virus. Hospitals too had to find ways to reduce costs and manage resources.
IoT became (and continues to be) the way forward, offering patients and healthcare providers a simple, sustainable, and affordable solution to care. Advancements in IoT, expanded connectivity, and a greater acceptance of digital health technologies will continue to increase the adoption of IoT in healthcare.
Also Read: The Future of Digital Healthcare and Patient Monitoring