5 Questions: Launching Remote Patient Monitoring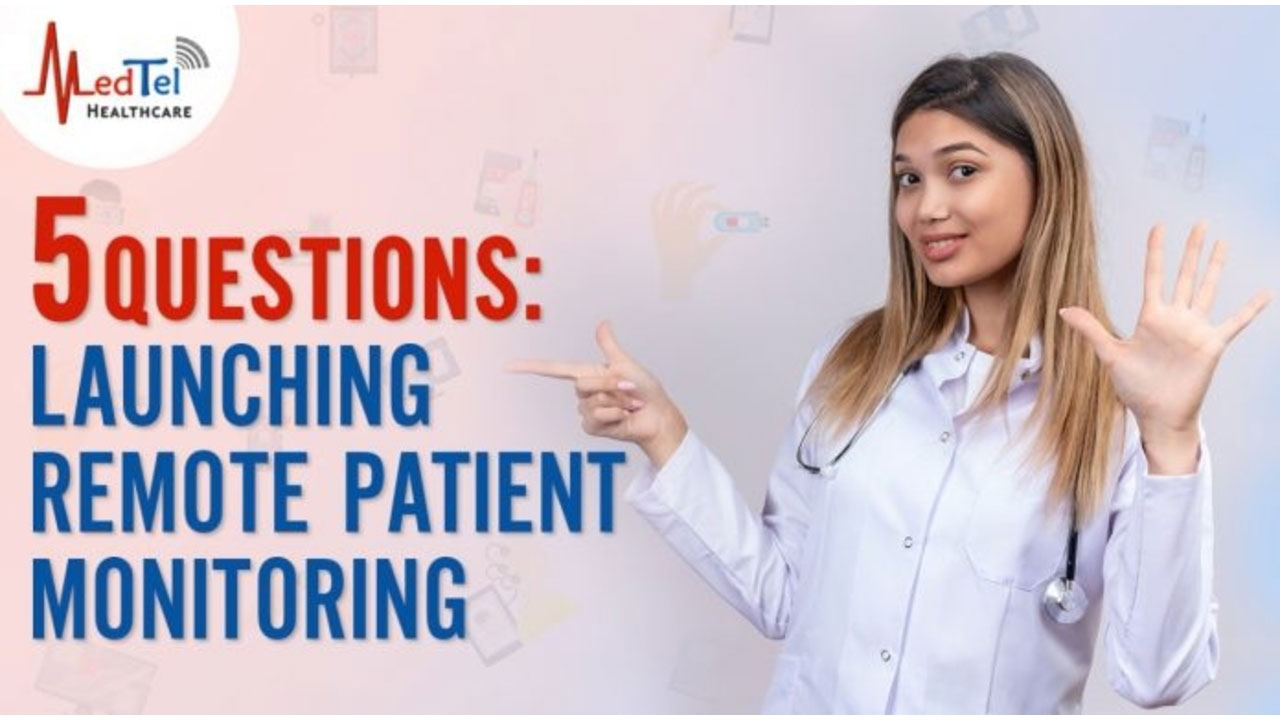 Are you still confused about whether to invest in remote patient monitoring? RPM is not a new thing. It was already gaining recognition even before the Covid-19 health emergency.
Till date, many patients have experienced the immediate need for RPM. Nearly, 43% of the healthcare workers consider that RPM will be almost everywhere by 2026. Providers are progressively embracing technology to sustain the health of patients.
The basis of launching successful RPM is mandatory planning in today's time. Thanks to decades of prior use of RPM. Experts had the chance to expand best practices in and around this equipment, thereby offering the best possible connected care solutions. However, before launching the remote monitoring program, you ought to know from where to initiate and what queries to be answered during Covid and beyond.
1. What intensity of clinical data confinement is essential?
While examining high-acuity patients, it is mandatory to have a data approach. This does not only include the vital signs captured, in fact, the frequency of data captured.
2. Which patient's population would gain from RPM?
Which population would be beneficial from this practice? Whether it will be chronic disease patients, aged patients without any chronic disease, or post-operative patients?
Most of the important RPM platforms are flexible to work for different clinical use cases. They provide post-acute care following surgery, supervision of chronic care diseases like heart failure/asthma.
Before selecting a vendor, what conditions do you have on your RPM list now and for your future as well? Or else you may end up with a way out that doesn't cater to all your requirements. This also assists to be aware of the patient's priority list for RPM so as to revolve the technology in stages and not overpower the clinical staff.
For more details, please visit us at 6 Remote Patient Monitoring Facts Learned from COVID-19
3. How are usage and billing is completed?
Do you know RPM can be the best approach for a practice to create revenue? But, earning much amount needs proper solutions and support. Such kind of RPM system will keep a check whether billing and usage are constantly completed accurately or not.
4. Which RPM seller you should bring into play?
The fact is that not all RPM sellers are equal. Even though they have the same functions but their way of using is different in different devices and different scales. Selecting from an extensive group of sellers is not that easy. So, it is better to take recommendations from outsiders who have already executed RPM.
The patients can receive remote patient monitoring equipment in different ways. Few sellers give an option of directly shipping the device to the patient while few ship the device to the practice.
5. How to manage the pricing of RPM?
Implementation of remote monitoring needs more than one partner. You will need a software provider, a cellular carrier, and a device manufacturer. Owing to the level of the remote monitoring program, there may be a need for a reseller who is capable of buying devices in bulk quantity.
The best solution for a lucrative launch is to find vendors who can work as a team and ensure flawless implementation of services at the best price. Nevertheless, if you buy devices and solutions with a written agreement, from one single vendor,  then the prices automatically drop.
Studies have evaluated that RPM can recover patient's health with numerous chronic diseases like diabetes, hypertension, and atrial fibrillation. Of course, RPM recovers the patient's outcomes and saves your money. It can also make money for physicians. The best thing is to find genuine partners who very well understand the challenges of healthcare organizations.
Also Read: Remote Patient Monitoring and Telehealth
You can get in touch with MedTel representatives to resolve your queries. They will be glad to answer your queries and assist you in deciding which RPM program to launch.