Understanding Healthcare Equitability
We still live in a society where our race, social position, geographical region and environment decide the extent of our healthcare access. Economic and environmental factors can be rectified by external efforts but the social disparity is one which has deep roots in culture. Ethnic and racial minorities are discriminated against for their access to healthcare by healthcare providers. Rural residents still suffer to have proper accessibility. 
As the name "Healthcare's Equitability" is itself suggestive, it aims to guarantee that everyone has access to cost-effective, culturally appropriate healthcare regardless of:
Race

Ethnicity

Age

Ability

Sex

Gender expression or identity

Sexual preference

Nationality

Socioeconomic status

The geographical location (i.e., rural or urban)
However, the problem prevails in the proper execution of an ideal plan which can ensure equitable healthcare service to underserved ones. And here, the digital solution seems promising. Teleconsultation and remote diagnostics can overcome geographical barriers and provide rural residents with proper accessibility.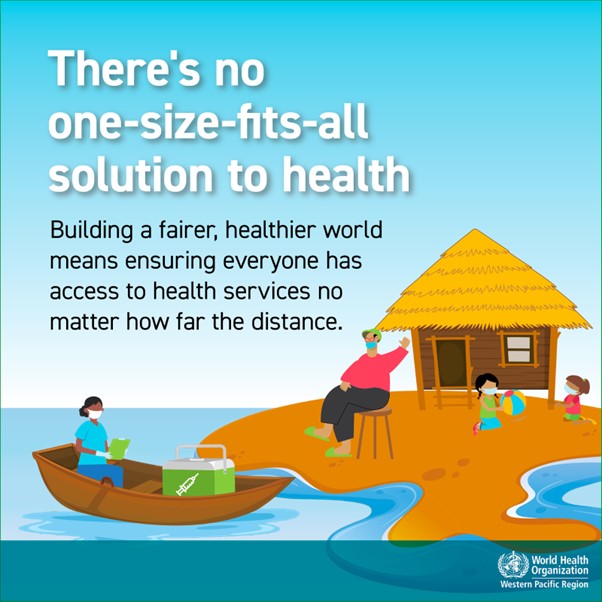 Source: https://www.who.int/images/default-source/wpro/campaigns/world-health-day/whd-2021/whd-4-v03-01.png?sfvrsn=b35ebbb0_5
Digital Health: A way towards accessibility and affordability
What is Digital Health?
With the burgeoning need and growth of technology comes the intersection of this with health and diagnostic practices. Digital health is using information and technologies to mitigate health problems and bolster health. In this era of ever-increasing demand for technology, healthcare professionals are in no way out of the league. 
Commonly used real-time application of digital healthcare practices includes
Mobile health (mHealth)

Health information technology (e-prescription, EHR etc) 

Wearable devices 

Telehealth, and personalized medicine

AI-based diagnosis 

Robotic surgery

RPM

Connected care 

Telemedicine services

EMRs

HIMS
On the whole, digital health covers all the possible ways of providing healthcare services and serves them with possible technologies. 
COVID-19 Forced Global Decision Makers to take Digital Health More Seriously
Every encounter teaches us how to improve! Adversities help us become more resilient and offer us the chance to concentrate on methods, plans, and tools that help us handle the issue better. 
It's not as if healthcare advancements and digitization weren't happening before the COVID-19 outbreak. Global decision-makers, healthcare professionals, and the general public were compelled to take digital healthcare more seriously as a result of the pandemic. Currently, it is quickly moving away from being an alternative that a small minority of people picked, and towards becoming the first choice for care.
Digital Dissemination: Prevailing Equitability
Technology advancement is the key to solving the world's inequitable access to healthcare. Where lack of awareness, access and affordability are the key factors for this disparity, the digital solution becomes the means to resolving it. Addressing the issues, more than 75% of medical professionals are present in urban areas where less than 30% of the population lives. Meanwhile, 70% of the population living in rural areas suffers from a chronic lack of primary health care facilities. And because of this, rural residents have to depend on quacks and unqualified practitioners for illnesses and symptoms of diseases until they suffer from severe conditions. Racial and ethical minorities face discrimination leading to deterioration in their health conditions, which worsens if they live in remote areas.
Telemedicine, remote patient monitoring, connected care and remote diagnosis can provide hospital-at-home solutions. Where rural households are alienated from high-notch consultations, teleconsultation can bring the comfort of specialist consultation nearby them. Using portable health kits equipped with medical-grade devices, teleclinics, NGO camps etc in rural areas are able to monitor vitals and conduct diagnostics. This remote monitoring based-diagnosis serves individuals with quick and accurate vital tests along with instant reports, irrespective of their location. Digital health not only provides doctors with a more holistic view of patient health through access to data but also helps profoundly in better prevention, treatment and management of disease, thereby offering improved care delivery outcomes.
By expanding access to healthcare, addressing unmet needs, personalizing care for patients, and taking into account the historical context of the communities they serve, digital tools can increase equity.
Over the past 2 years, health-tech startups targeting socially discriminated and underserved populations have gained investors' attention, giving them enormous funding. It has been illustrated below.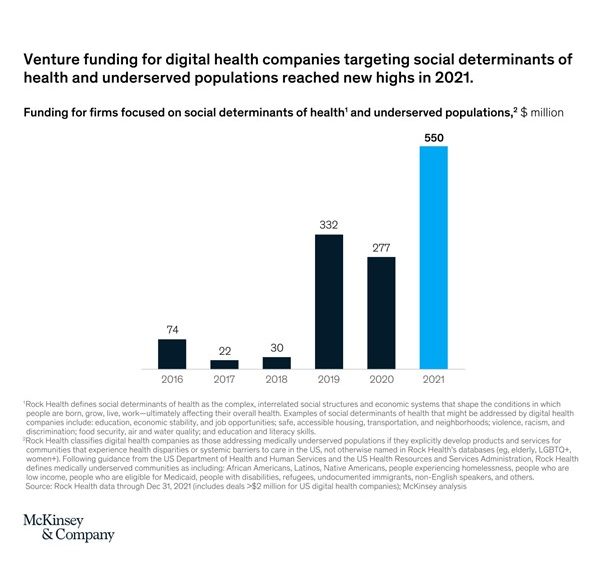 Source: https://www.mckinsey.com/industries/life-sciences/our-insights/digital-health-an-opportunity-to-advance-health-equity
Doctors get deep-level health and vital insights of the screened population through data analytics, helping them derive data-backed decisions. Data analytics also offer predictive analytics comprising risk scores and more, which allows doctors to alert patients to oncoming illnesses and make better health routines for them. Burgeoned adoption of digital technology also enabled health insurers to settle insurance claims quickly and provide a better customer experience. This helped people gain more confidence in insurance schemes, which were considered risk games and prospective fraudulent before, allowing them to incur less out-of-pocket healthcare expenditures.
Government's Take
The government has made several initiatives to consolidate digital health. One of the major initiatives is the "Ayushman Bharat Digital Mission (ABDM)", launched by PM Modi on 27th September 2021. It intends to create the framework required to enable the nation's integrated digital health infrastructure. It will bridge the existing gap amongst different stakeholders of the healthcare ecosystem through digital highways. Individuals can set up an Ayushman Bharat Health Account (ABHA) under the Ayushman Bharat Digital Mission to manage their medical records. It is a 14-digit number which is used to uniquely identify individuals, authenticate them, and thread their health records. 
To provide a smooth digital healthcare experience for all stakeholders—health facilities, patients, and healthcare professionals—ABDM has established building blocks and interoperable APIs. The key building blocks of ABDM are – ABHA, Healthcare Professionals Registry (HPR), Health Facility Registry (HFR) and Health Information Exchange & Consent Manager (HIE-CM).
Along with ABDM, some other important initiatives are:
National Health Portal 

e-Hospitals (an ABDM integration)

National Telemedicine Network (NTN)

Tele-Radiology (NIC-Delhi)

National Digital Health Blueprint
The National Health Authority (NHA) has issued an open invitation to all parties interested in sharing their Expressions of Interest (EoI) for growing cutting-edge solutions to support the creation of the Indian national digital health ecosystem. This cooperative method will be a useful resource in both accelerating improvements and making digital public goods reachable to both public and industrial institutions. These solutions ought to be supplied as a free service to public and/or private companies with the aid of interested parties.
Sharing the thought behind the NHA's invitation for Expression of Interest (EoI), Dr R.S. Sharma, CEO, NHA added "The ABDM endeavours to give impetus to open and interoperable standards in the digital health ecosystem. Such an undertaking will not only expedite Universal Health Coverage goals in India, but also have ripple effects on the global health ecosystem. However, such an ambition requires all-hands-on-deck. In this regard, the National Health Authority is giving an open call inviting all interested parties to contribute to the Unified Health Interface (UHI), Health Claims Protocol (HCP), and various other open-source digital public goods being created to expand the digital health ecosystem."
What next!!!
Digital technology is remodelling healthcare from a reactive to a proactive industry, increasing and providing access to high-quality care for previously underprivileged or marginalised areas.
All of these advantages go beyond the way digital healthcare makes it viable to serve communities that had been formerly discriminated against whilst retaining the same standard of high-end healthcare facilities. The entire capability of virtual health lies in its capacity to advance racial, gender, and age inclusivity, to close gaps in primary healthcare, to boost productivity by relieving doctors of routine tasks so they can concentrate on patient care and spend more time with them, and to advance personalised medicine.
Digital technology is undoubtedly taking us into a futuristic tomorrow. In a world where possibilities are defined over the horizon. Emerging technologies like remote surgeries, robotic surgeries, invisible wearables etc are some of the exemplary moves towards making a world full of contentment with high-graded serving for all!